I just want kids with Epilepsy to feel safe
"I had my first seizure in school. My teacher was sitting right behind me. I put my head down, but she didn't know what to do. When I picked my head up, she sent me to the nurse. I walked there by myself."
Paul was diagnosed with epilepsy this past February. He is 13 and in 8th grade. He hates language arts! He doesn't like reading or writing, but he loves math, science, history, and drawing. He's a big fan of the gym and, of course, video games like Minecraft and RoadBlocks…not Fortnite anymore.  Pretty typical stuff for a not so typical kid!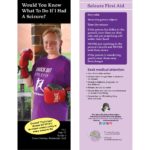 But when he has a seizure, and they usually happen in school, they are focal unaware seizures that used to be called complex partial seizures.  He's gone from 4 to 5 seizures a day to NONE since May 8th…. but who's counting!
"I want to feel safe, and I don't right now. People need to know how to help when I have a seizure or any other kid." There are 12,000 children in New Jersey who have epilepsy.
So, first things first, Paul and mom, Colleen Quinn, taught Paul's best friend, Shane Farr, how to recognize a seizure and help. It was easy. His dad Bill has epilepsy but has been seizure-free for the past 22 years! The first time he helped Paul, Shane tells us, "It was just a normal day hanging out in the back yard. I thought something might be wrong, so I asked Paul if he was OK and he didn't answer. I called his mom right away."
Next came a seizure action plan in place at school and an IEP requiring epilepsy training for school personnel spearheaded by his mom and the school's Superintendent, Beth Norcia.
Mom then joined online e-communities to learn more and there made friends with Shari Dudo, who suggested they try to establish a Sam's Law (named for Barbara and Jerry Watkins daughter) in New Jersey and call it Paul's Law. Currently, Paul's Law (Bill S4141) has been introduced in the New Jersey Senate.
Samantha Watkins was an 18-year-old honor student, member of the National Honors Society, a Texas scholar, and a member of the Kilgore, Texas High School soccer team who died as a result of a massive seizure only three months after she had her first seizure. The law her death spurred, requires all Texas public school personnel to be trained in seizure recognition and first aid.
What followed was the conversation between Paul and his mom about joining the fight for epilepsy education in every school by connecting with Shari Dudo and adding their voice to bring education and awareness to the State of New Jersey.
Paul was ready to speak up and speak out. He was not uncomfortable disclosing that he had epilepsy. "I just want to feel safe!" So, mom Colleen connected with Shari Dudo and together they discussed a plan to bring the law to New Jersey.
According to Paul's godmother, Colleen Lindh, who has known Paul's mom for 30 years "if anyone can get this done it's her – Mama Bear is out!"
Paul met with Senator Beach who was a former teacher who had seen seizures before.  Paul said Senator Beach was just marvelous to them! The Senator's daughter had heard Paul tell his story on a radio spot and told her dad that he HAD to help. That's an endorsement that's hard to beat!
Colleen, Paul, and Paul's godmother, Colleen, were invited to help edit Paul's Law after Senator Beach's office made some changes. Paul's law follows the Texas Sam's Law as a model.
Cindy Veneri, Colleen's close friend, was especially helpful in giving Colleen and Paul emotional support, when Paul was diagnosed. Cindy had lost her daughter and is helping to raise her 4-year-old grandson, who has autism. "If it wasn't for Colleen, my beautiful grandson wouldn't be where he is today. Colleen knows how to advocate!"
Paul struggles with medication side effects, feeling "different", and bullying." It's tough. "I was playing ball with some kids and one boy shouted out, 'Ew! Get away. You have epilepsy!' I said, 'What did you say? What in your brain made you think it was OK to say that?"
He puts all that aside and for his birthday did a fundraiser to send kids to camp. Paul went last year on a scholarship. "We raised lots of money! $700.00!" We continue to raise money through Paul's social media page, Paul's Purple Warriors NJ, on Facebook by selling t-shirts.
"We want the training that comes with Paul's Law to be uncomplicated, provided by a nationally approved organization and free of charge to ALL New Jersey school personnel, including bus drivers," says mom.
Paul admits that this hasn't all been easy. Privacy is gone. But mom Colleen sees Paul as so very brave and she couldn't be prouder.  We agree.
"Sometimes I would rather be doing something else, but I really just want everyone with epilepsy to be safe," adds Paul.
We couldn't agree more with our YOUNG CHAMPION.
JANUARY 9, 2020 – GOVERNOR MURPHY SIGNED PAUL'S LAW
JOB WELL DONE! CONGRATULATION PAUL!

Julia is "On It!"
Julia, now 17, was diagnosed with epilepsy when she was 16-years-old.  She was on her way home from a trip to NYC with her school's chorus group when she developed a migraine on the bus. By the time she arrived at the school (4 hours later) she was exhausted, nauseous and her head was pounding. Julia got into the car with her father and 2 miles down the road she started convulsing. At first her dad thought she was goofing around until he pulled over and she was slumped over with abnormal breathing. He called 911. The hospital staff said it was probably a fluke due to a combination of things. They all hung on to that thought until the first day of her junior year when she had another seizure that lasted much longer.
Her second seizure was very traumatic for the whole family. Mom Lisa had no idea what to do. Julia turned blue so Lisa thought she was going to have to perform CPR. The 911 operator told her to keep Julia on her side, but mom was in total panic mode. What they realized later was that Julia had been having absence seizures for months, but they had no idea that's what they were.
"I feel like I did everything wrong," shares Lisa. "No one we've ever known has had epilepsy, so we had no clue. That's why Julia feels like she wants to help teens that are newly diagnosed. She doesn't want someone to feel as alone and as clueless as she did. She is the strongest kid I've ever known. No matter how many times she was knocked down, she dusted herself off and kept moving forward."
Julia said after both seizures she felt afraid and very confused, but after the second seizure she knew something was very wrong and that terrified her. She does know other people with epilepsy, but when she received her diagnosis, the first thing she thought about was how her life was going to change.
Julia tells us, "How I think about everything has changed. I really have more understanding of others with disabilities. I have recognized that I'm strong and have great mental stability. I might not have realized those things before."
She sees how important family is. "They have become my complete support system!"
Soccer and her soccer team are very big pieces of her life. She couldn't practice for a while because of the medication side effects. At this writing she is seizure free for 4 months and she is back to everything, including soccer.
Julia feels that her Club soccer coach was a huge part of her not quitting. She would go to every single practice and most of the time would have to sit and watch due to dizziness and occasionally seizures. He always encouraged and supported her. Coach could see beyond her diagnosis. He told her mom Lisa that he truly admired her for never giving up.
While not everyone was so positive and supportive, and she did have some terrible experience with people who were at the opposite end of the spectrum in the compassion and understanding department, the support Julia did receive made all the difference between giving in and giving up and staying strong!
"I'm taking better care of myself, drinking more water, exercising more, working to get my whole body to be at its best.
A senior this year with plans to go away to school to become a nurse where she is committed to playing soccer, she has a job. Julia works at an animal clinic. "I love playing with the animals, especially the 2 dogs that are regulars that are my buds!  And, Julia is not afraid to talk about it. She talks to family, friends, and the kids at school. "I'm very open to anyone. It was hard at first for my friends to understand, but now they know how to help me if I have a breakthrough seizure."
Julia recognizes the need to spread epilepsy awareness and is getting a plan together. "I want to talk to the people around me. People should know how to help. Seizure first aid should be more available, more normal."
Glad to know you're on it! We know you'll do a wonderful job!
UPDATE – First Grade Presentation!
This week Julia held her first epilepsy awareness training. She talked to first grade students in her school district. Congratulations! I'm sure more is to come…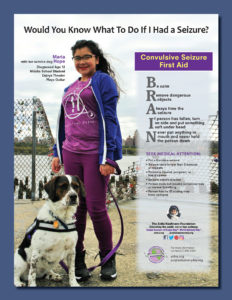 Hopey Dopey and Me
Meet Maria
Maria really lights up when she talks about Hope (aka Hopey Dopey). She's her brand-new service dog and a new friend. "She was given the name Hope by her first home at a Kentucky rescue shelter. We kept the name but added the nickname because when she looks at you in a certain way she looks just like Dopey from Snow White, "Maria tells us.
Maria is now 13 and had her first seizure just a few months ago when she was 12. Some of her first seizures were at school. "I didn't understand what was happening to me or what it was," shares Maria. "It was scary." Epilepsy was new to her. She had wonderful support from her parents and from her doctor who, little by little, told her about epilepsy and about her seizures. With the diagnosis of epilepsy came lots of changes. Maria now recognizes her seizure triggers and stays away from getting overheated, getting a hard hit to the head, or even being startled. Her therapist is helping her with the new feelings of anxiety she experiences as well as explaining more about how to live her best life with epilepsy and seizures. "I'm learning about my tonic-clonic seizures as I go along." Maria feels that Hope really helps to calm her. She is so playful, loves her treats and loves to cuddle. The whole family can tell that she misses them when she's alone. "She does not like that!" The kids at school have been cool about her seizures and don't ask any questions because they don't want her to be uncomfortable.
Maria tells me, "I am happy to talk about my seizures with my friends. I want them to know that it doesn't make me who I am…define me. And, I want them to know how to help me if I have a seizure when they're with me." The first few months after her diagnosis of epilepsy was a struggle. But, with the help of her entire support system – family, friends, doctors and, of course, Hope, she has turned a corner and wants to start the important work of epilepsy awareness.
The Anita Kaufmann Foundation has helped where we could and now she can take her very own seizure first aid bookmarks and flyers to school and share them with everyone. "I have one friend that has epilepsy and I want everyone in the school to be aware and know seizure first aid. I want to make sure the kids with epilepsy know they are not alone, and we are all here to help each other cope." Mom has her own special message, too. "Maria's spirit and outlook after she coped and embraced her diagnosis are inspiring and as a family, we are in this together. Maria also wants to make everyone aware of Epilepsy and its signs, but most importantly wants her fellow Purple Warriors to know they are not alone." Download Maria's Bookmark
Get the latest update for March 2020 – Pets, Pets, Pets
Maria is committed to epilepsy awareness and her #purplewarriors every single day!
Join MaKenna In The Fight For Epilepsy Awareness!
MaKenna Homayoon is making her mark on her community and on epilepsy awareness. She has had many seizures that she does not remember, but she also has seizures that she is able to keep track of. Describing her seizures, MaKenna says, "it feels like bugs crawling on my arms, kind of like when your hand or foot falls asleep and when I say out loud that I feel bugs, my friends use to ask if they were real or fake bugs", but her friends quickly got used to what it all actually meant! MaKenna had a seizure in school, during her kindergarten school year. Since then her seizures have changed many times in how they present themselves. MaKenna keeps a tally of how many seizures she has, keeps her doctor appointments, takes her medicine, and is not afraid at all to talk about it. The medicines have helped her seizures, but they are still not under control. Mom talks about epilepsy and seizures to everyone. Her mission is to keep her daughter safe, make sure that she doesn't become isolated because of her seizures, and educates everyone she meets about what epilepsy and seizures are and what they are not. "At the beginning of each school year, I send to school seizure first aid charts and a laminated sheet that contains all our contact information, and the names and doses of all her medications.  All of her teachers are aware of seizure first aid and the students are aware that MaKenna is epileptic. I want everyone to know the word 'epilepsy' and what that word truly means." When Makenna began having seizures at school she brought in the book, "Mommy, I Feel Funny,' to her class. "It's about a girl sitting on a swing and her first seizure and how she has to go to the doctor and get different tests done.  The kids got to ask me questions after my teacher finished reading." MaKenna has since donated this book each year to her classroom to help spread awareness. MaKenna enjoys being a cheerleader and enlisted her friends to help raise awareness and even to raise funds to support AKF programs. "We sold purple nail polish, purple cupcakes, did purple hair extensions, awareness bracelets and pens and gave out first aid bookmarks to everyone. We raised over $500 every year! We even got the whole school to wear purple on Purple Day!" MaKenna tells us that, "When my body shakes on the inside, I'm a little slow, but I'm perfect just the way I am." Yes, perfect! And perfectly brave… And this year, MaKenna is cheering at her middle school, but in years past has been an all-star cheerleader at Gravity Cheer in NY. MaKenna and mom  gave out purple ribbon stickers and AKF bookmarks to all of the girls in the gym. The entire gym has been such a great support to our family over the years! MaKenna has done all-star cheer for years and this year she is doing school cheer but is raising awareness still with everyone! This young Purple Day Ambassador…and her entire family…are making sure that epilepsy awareness is a part of their entire community.  We all thank you!
Purple Day 2017 MaKenna Style!
Purple Day Ambassador MaKenna Family & Friends!
 JAKE
Family and friends can make the difference…
Jake is 17 now but had his first seizure at 13. When I asked what his first memory was about that day, he said the memories were vivid. "It was 8:30 am and we were wrapping up our third football practice of that year. I was listening to the coach and just blacked out, it was almost like I just fell asleep. When I woke up, a crowd of people surrounded me. I was trying to tell everyone I was just fine, but no one understood what I was saying.  Coaches daughters had had a seizure, so luckily, he knew what to do. He timed everything and was really prepared to help.  I spent only a few hours in the hospital and had an appointment with a neurologist." Getting that diagnosis of epilepsy was a vivid memory, too. "I was asleep after my sleep deprived EEG. Mom took the call from the doctor with the news, but she waited until I woke up to tell me. Mom never cries, but in tears she blurted out, 'You're epileptic!" The significance of what she said didn't really hit him. After all, he was the same person! He just took some time, calmed HER down and together they decided that they wouldn't let it be a problem. "I knew my friends weren't going to care. My family wouldn't care. They had my back no matter what was happening." Now seizure free and a senior in high school, he's skating through the year. Jake still plays football, but also golfs and plays basketball. Jake never faced any problems in school, in part because he never had another seizure there and had no bad side effects from his antiseizure medications. From the very beginning, Jake had no problem telling everyone that he had epilepsy. In fact, he feels that the only thing his having epilepsy did was to make his family and friends more aware. Immediately, they all just wanted to know how to help him if he had a seizure. Sports are still very important to Jake. He has no limits. After that first seizure on the football field, he was back to playing in a month and his school went on to win two state championships. What's next for Jake? The University of Miami and Sports Management! Good luck, Jake. We all have your back, too! "I believe the key was to be open, be honest, and talk about it.  From the very beginning people were almost afraid to bring it up, they didn't want to make us uncomfortable.  I found talking openly about it easier on everyone," shares mom Bridget.   Jake's says that ATTITUDE is everything!  "I simply refused to let it hold me back.  Good advice for everyone!
UPDATE…
JAKE IS NOW A FRESHMAN AT THE UNIVERSITY OF MIAMI. 
CONGRATS JAKE!!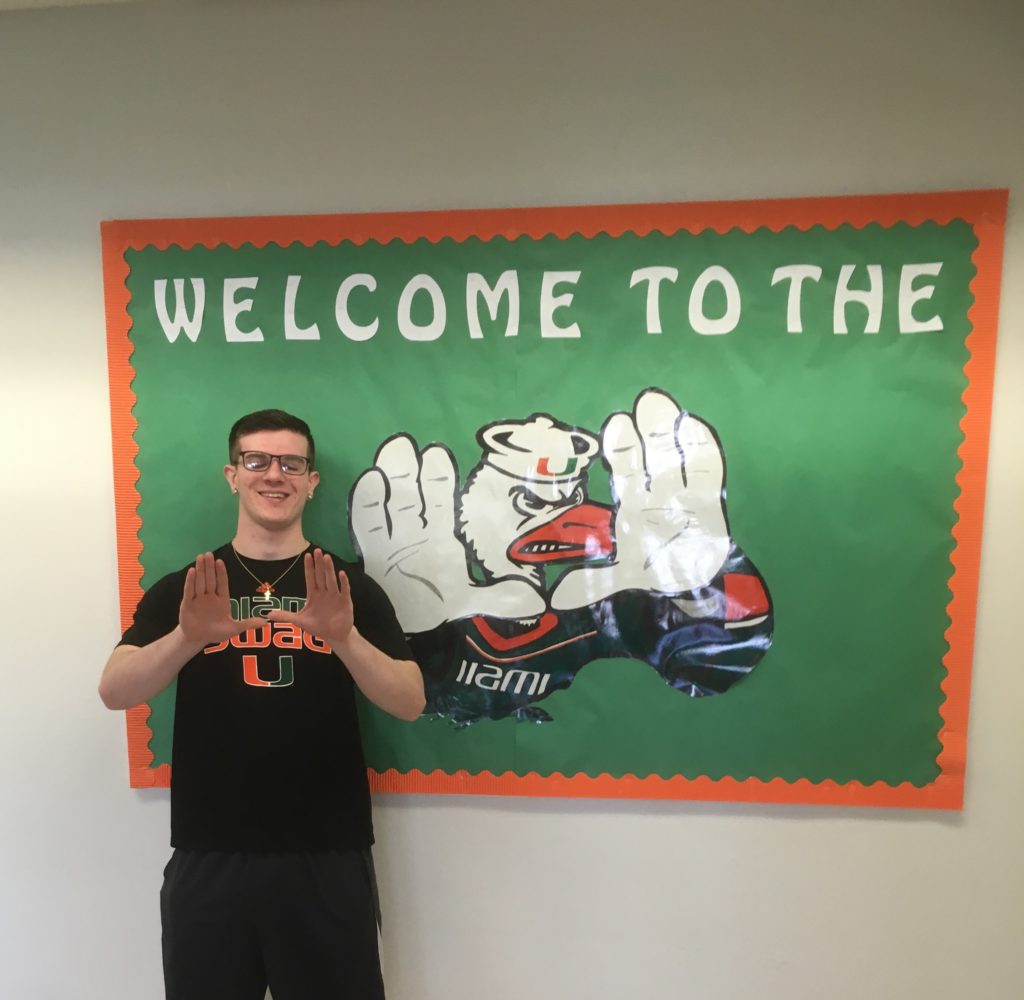 Jake & friends spread epilepsy awareness!
McKinley creates sweet epilepsy awareness!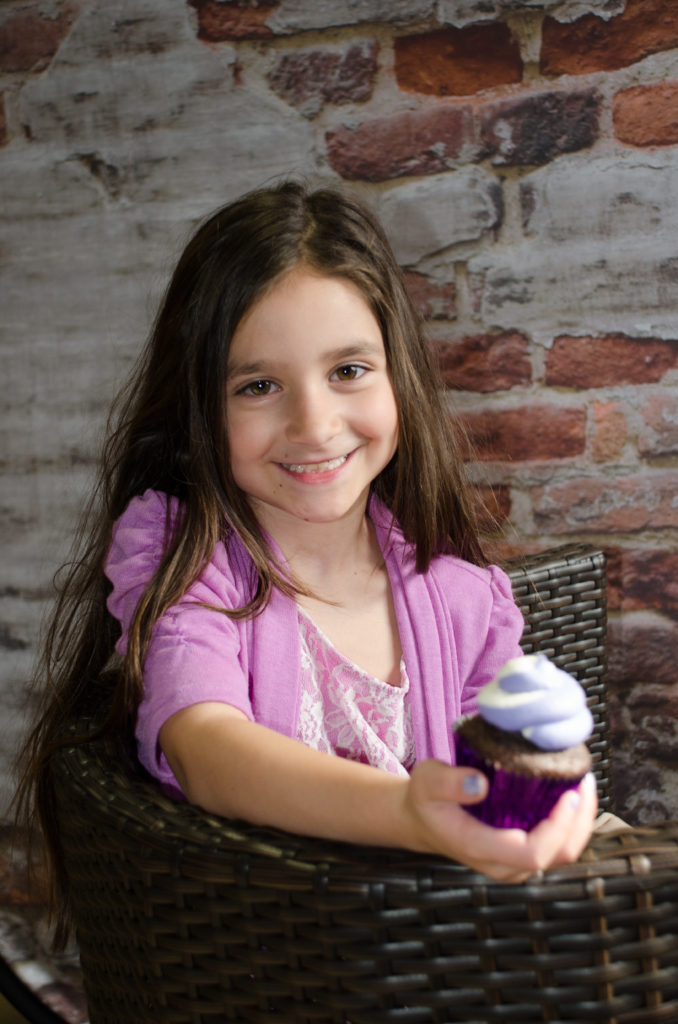 McKinley Summers was 11-years-old in April. She's a local gymnastics star, member of her local Girl Scout troop and a very crafty crafter, who loves to paint, sew and make all kinds of cool bracelets.  Friends' birthday parties are fun times. An above-average reader, she loves a good book. And, she's in her school's gifted and talented program.  She has had seizures since she was 4. They began one week before she started kindergarten.
Following several "episodes" at home, bewildered parents McKinley's parents made plans to take McKinley to Children's Hospital in Wisconsin. But, denied medical coverage and encouraged to stay within their plan, their first visit was with a neurologist in town. Tests were conducted, and collaboration with specialists at Children's confirmed McKinley's epilepsy.
The diagnosis stunned her anxious parents. Tammy had assumed she was having the same type of fainting spells she experienced as a child. Never did epilepsy come to mind. McKinley's seizures ranged from focal (auras) to tonic-clonic. None present in the same way, but McKinley knows when they're coming.  And, her brother Braeden is usually there with her. Mom becomes the coach for her extracurricular activities, but he's her personal guardian! Treating McKinley's epilepsy was tricky, especially when mom thought (like so many do) that medication really wasn't necessary.
But that seizure the first Christmas Eve after her diagnosis proved 3 weeks seizure free means very little.  The medication was added, and doses juggled for a while, which eventually gave McKinley three years seizure-free. That good patch ended a year ago with a breakthrough seizure. But, today she's enjoying that one-year mark of seizure freedom! McKinley was, and is, a happy-go-lucky girl who sometimes struggles with her epilepsy, seizures and medication side effects. She can become uneasy and a bit timid. While she may at times become irritated and more emotional than her peers, she manages to be and to keep the best of friends.
Her brother Braeden is her champion! A great babysitter, he watches his sister and keeps her safe while riding the school bus every day.  This "typical boy" is smart, beginning high school this coming school year with college accelerated courses and football. He may at times be anxious us about his caretaker role, but takes charge every time he needs to. And, he supports her awareness activities, whether it's walking with her at an epilepsy walk, holding a bake sale, or just talking about it.
Tammy came to AKF looking for a way to raise awareness in her hometown of Denmark. If her daughter was to truly be safe, people in their community needed to know how to help her, and anyone else, having a seizure. And, the more she spoke with people she found others looking for similar resources. It is still completely shocking to hear how many people didn't want to disclose. But now, with her efforts of 6 years, other school districts and parents are contacting her for guidance and support.
This is how the entire family became involved in The Great Purple Cupcake Project for Epilepsy Awareness. Tammy felt this was a wonderful way to raise awareness and raise funds to support people with epilepsy who want their communities to know how to help them. Since they began, Tammy and McKinley have raised over $20,000 and reached thousands of people through TV messages, newspaper articles and handing out first aid materials to everyone who purchases one of their very special purple cupcakes!
Tammy will tell you that living with and caring for a child with epilepsy makes you much more aware of the family as a unit, "I think of us more as a team." To the parent of a child newly diagnosed Tammy shares, "You don't need to change a life, just live life without restrictions until you know what they truly have to be." Please watch this video. It shows a very dedicated young lady! http://www.wearegreenbay.com/local-5-live/local-5-live-on-location/the-great-purple-cupcake-project-2017/679220775
Purple Cupcakes, Shoelaces and more!