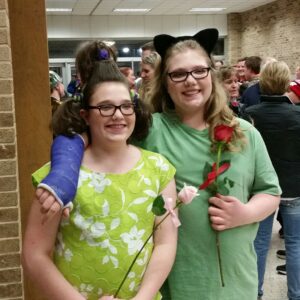 Recently my sister broke her wrist. I was asked to help her a lot, and she got a lot of attention with others asking how she was doing. The first night after she broke her arm I cried in my room. I was sad she broke her arm, and because she was getting the attention like when she first started having seizures. When something bad happens to Laura she seems to get all the attention.
I started to get into trouble to get my Mom and Dad's attention. I wanted them to focus on me for once, and not her. I grabbed my Mom's arm one day to get her attention. I talked to my Mom about my feelings. She told me just to tell her when I wanted her attention instead of getting into trouble. It feels a lot better to ask for attention than to get into trouble.
If anyone else has ever felt like this, they should talk to their parents or even share it with us. So if you want attention from your parents just say, "Hey Mom or Dad, I want your attention for a little bit," and it should work. I'm learning I like attention for good things, not bad!!
P.S. The picture is from our middle school musical!
~ Emma