2020 SCHEDULE OF EVENTS
9 am Registration
---
9:30 am – noon morning events
Our "Third Annual Purple Day™ For Epilepsy Around the World" will again blend family fun with important information about epilepsy at every turn. Activities will begin at the Disney's Contemporary Resort ballrooms with refreshments to share with our guests – Mickey and Minnie! Other characters will be on hand for photos. There will be happenings for the kiddos, and giveaways. A surprise keynote speaker will be on hand to share a story and a bit of wisdom.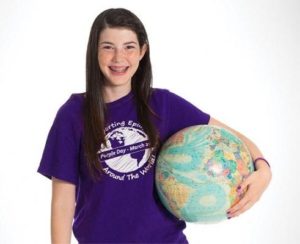 Spend some time with Purple Day Founder Cassidy Megan!
Dress "purple" and join the contest for the best Purple Day 2020 Costume. You will be eligible to win some very special prizes!
Pick up your ticket and bring it to the Spaceship Earth lighting and enter to win another $250.00 prize!
Attend the morning event at The Contemporary and you have entered to win a 7- night stay at a Mayan Resort valued at $4,000!
Many thanks to a very special Purple Day Ambassador who has arranged for this fabulous prize!
Your luxury vacation gift is a 7-night stay at any Grand Mayan or Mayan Palace Resort. These are sprawling resorts on lush grounds along a beach that are near the Museo Frida Kahlo Riviera Maya and Cancun International Airport.
Learn about this beautiful location here:
https://www.vidanta.com/en/web/riviera-maya/mayan-palace
---
Noon – 5 pm
AKF will host a free and open Expo where we will give attendees the opportunity to increase their knowledge of epilepsy by meeting with representatives of companies and organizations in the field. Our goal is to present our guests with the most current information about epilepsy treatment and available resources. Join us and learn about the latest epilepsy treatments, newest supportive devices as well as local and national services.
---
Dusk
The day will end with a visit to Epcot where we can all watch together as Spaceship Earth turns purple for epilepsy awareness. Be there and enter to win a $250,00 prize!
For those who will not be spending time at Epcot, Disney guides will be at the Epcot gate and will escort you free of charge in and out of the park for the Spaceship Earth lighting so that you can be a part of this special photo opportunity.
---
PLEASE CHECK BACK HERE FOR COMPLETE DETAILS ON HOW TO ENTER EPCOT.
Join us for this special opportunity to meet and greet and find a friend or two.
CHECK BACK FOR EVENT DETAIL UPDATES!