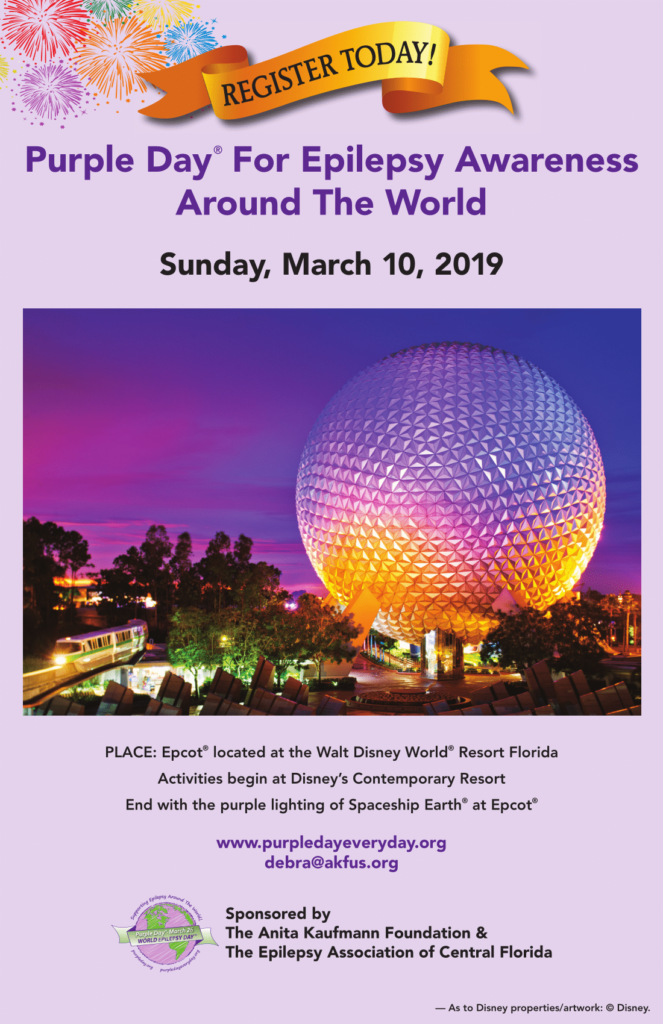 This year our "Purple Day® For Epilepsy Around the World" will blend family fun with important information about epilepsy at every turn. Activities will begin at the Disney's Contemporary Resort® / Fantasia Ballrooms H-Q, with refreshments to share with our guests – Mickey and Minnie! Other characters will be on hand for photos. There will be happenings for the kiddos and giveaways. A surprise keynote speaker will be on hand to share a story and a bit of wisdom. People and organizations from all over the US will be there with information and resources. The day will end with a visit to Epcot® where we can all watch together as Spaceship Earth turns purple for epilepsy awareness. Registered event guests who would like to meet at Epcot for the Spaceship Earth lighting without paying for a Disney Park ticket will need to:
Email annmarie@akfus.org with their name and the names of everyone in their party no later than 3/1/19.
Be at the Epcot gate no earlier than 7:45 pm the evening of the event (3/10/19) to meet our Disney guides.
ONLY those who have pre-registered to enter Epcot for the photo without a park ticket will be escorted into the park.
PURPLE IT UP!
Wear your best purple. Wear the most purple. Be the best purple outfitted adult or child and win a $250.00 prize.

Winner announced at 11:am
Schedule of Events
The Contemporary Resort® – 9:30 am till 11:30 am Registration and Program at the Contemporary Resort
CHECK-IN 9:30 a.m.
Pick up your gift bag and fill them with goodies
Pick up your ticket to win a $250.00 prize at the Spaceship Earth Lighting
Pick up your purple wristband and you can follow escorts into Epcot without a park ticket at dusk for just the lighting
Refreshments
Fun Family Activities for the Kids
Guest Appearances by Mickey and Minnie and a few other characters for your pictures.
The arrival of the MediKidz® and take home one their Free Comic Books
Epilepsy Information and Resources
Giveaway's
Cassidy Megan and Guest Speaker
And a few surprises!
Thank you for joining us to celebrate Purple Day® Around the World! We look forward to seeing you in person March 10, 2019.
AND THERE WILL BE A SPECIAL MESSAGE FROM OUT OF THIS WORLD!
Join the Magic!
Our Sponsors