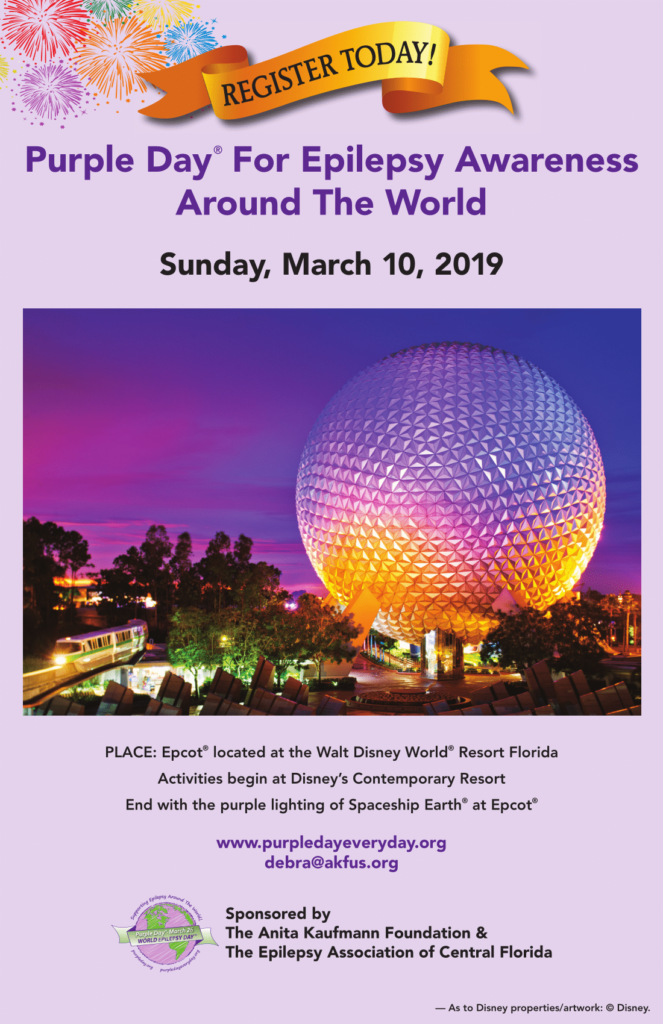 This year our "Purple Day® For Epilepsy Around the World" will blend family fun with important information about epilepsy at every turn. Activities will begin at the Disney's Contemporary Resort / Fantasia Ballrooms H-Q, with refreshments to share with our guests – Mickie and Minnie! Other characters will be on hand for photos. There will be music, happenings for the kiddos, and giveaways. A surprise keynote speaker will be on hand to share a story and a bit of wisdom. People and organizations from all over the US will be there with information and resources. The day will end with a visit to Epcot where we can all watch together as Spaceship Earth turns purple for epilepsy awareness.
For those who will not be spending time at Epcot, a guide will be at a specific place and time to escort you to Spaceship Earth so that you can be a part of this special photo opportunity.
PLEASE CHECK BACK HERE FOR COMPLETE DETAILS ON HOW TO ENTER EPCOT.
Join us for this special opportunity to meet and greet and find a friend or two.
CHECK BACK FOR EVENT DETAIL UPDATES!
Sponsors